Artificial lighting: designing the light of living spaces
For a setting to appear well lit, it needs harmony and balance between two sources of illumination: natural and artificial.
Getting the right lighting values between these two elements requires a certain amount of expertise and skill. Good lighting professionals must be trained and able to design with and for light.
This process is not only limited to the choice of lighting fixtures such as wall lamps or spotlights. A designer must be capable of arranging elements, such as doors and windows, in the most suitable position to enhance the room.
This is how interior lighting is created: by researching and composing the right integration between furnishing, architectural and lighting elements.
THE IMPORTANCE OF BEING ABLE TO IDENTIFY THE APPROPRIATE LIGHT
Every room or every space is created to be used for a specific purpose and for this reasons, light in these interior areas must fulfil certain characteristics.
Depending on the case, the correct lighting will have a different hue.
Generally, cool lights are useful for stimulating concentration and are therefore ideal for a work or study space. A warmer artificial glow is best suitable for illuminating certain rooms in the home such as the living room or bedroom, because it is a light that does not overtire the eyes and promotes relaxation.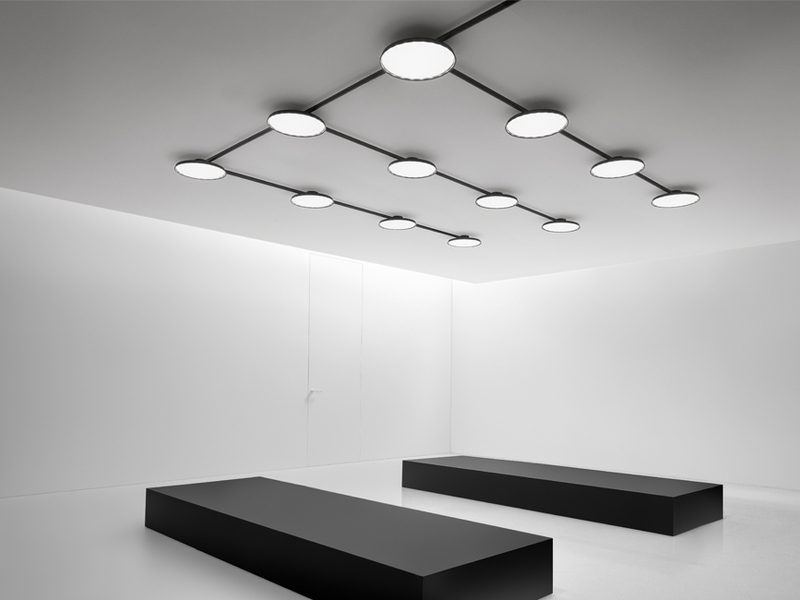 KNOWING AND HANDLING THE POWER OF COLOURS
The warmth of the room, which comes from the lighting, is very important as it allows the surrounding space to be 'coloured'. This effect helps to define space and depth in rooms and creates an atmosphere that directly affects the feelings of those who are there.
Understanding interior lighting trends and techniques allows you to experiment with colours and their power to influence moods and emotions. Several studies have shown how a certain hue or intensity of light can affect the perception of space; knowing these tips, the designer works to ensure that every room, with the right lighting technology, can express its full potential, thus being useful and above all functional.
LIGHT AT THE SERVICE OF TECHNOLOGY
Whether it is a new construction or a renovation project, the possibility of changing or renewing the artificial lighting is certainly an added value.
As written in the previous paragraphs, light sources are a very important tool for architects and designers; for example the correct use of design wall lamps allows you to renew the entire atmosphere of a living room or an open space.
In these cases, it is always good to rely on directional lights, such as Mymoons Sistem, to help people's eyes define spaces, supporting relaxation.
All these little tips remind us how much technique but, above all, creativity can be employed to illuminate rooms in the home: artificial lighting can and should be studied and applied to make the brightness of interiors as natural and balanced as possible.

Aldo Bernardi, as a lighting specialist, knows that every environment needs balance and harmony. For this reason, his products are designed and manufactured to be inserted in many contexts, creating moments and atmospheres appropriate to specific needs
---
If you are thinking of renewing or redefining the lighting of your interior spaces, browse our new catalog, or contact our Interior Technical Department. We will be happy to show you all our available options!
---
Products in this creation: