#lightingdesigner
Aldo Bernardi's creations illuminate Chania in Crete
Dimiourgiki Ltd, an architectural studio based in Chania (Crete) and Athens (Greece), has chosen Aldo Bernardi's creations to restructure an ancient palace located on the coast of Crete.
The goal behind every single project of this studio is creating projects that maximize the potential of each environment.


Dimiourgiki Ltd creates efficient and harmonious spaces that respect the surrounding landscape.
The design studio offers a wide variety of services regarding all types of architectural designs. In particular this studio specializes in restructuring and restoring spaces with a high respect of the original beauty and the surrounding environment in mind.
THE PROJECT
The core of this project is an old building from the early 1900's, located right on the coastal front of the Old Town of Chania.
The studio's goal was to transform this palace into a modern restaurant overlooking the sea, respecting the building's history and highlighting its classic architectural elements.

Thanks to this project, the studio won The Interior Design Award 2021 1st prize in the "Projects in Progress - Store Furnishings" category and the 100% Hotel Design Award in 2021.
We are absolutely proud to have been chosen for this work.
THE COLLABORATION WITH ALDO BERNARDI
We interviewed Dimiourgiki Ltd, to find out why they have chosen Aldo Bernardi's elements for this project.
#interview
WHAT WAS YOUR CUSTOMER'S NEED?
<<The initial goal was to turn this space into a complete catering business. The customer wanted to serve in the same suggestive location both breakfast and dinner adding a delicatessen store corner. With this in mind we proposed a restoration solution that emphasise the original charm of this ancient building.>>
WHICH SOLUTION DID YOU CHOOSE AND WHY?
<< For this project we have chosen to light the outside and the entrance of the room with the Glicine Outdoor line of Aldo Bernardi.
The form of these lamps fitted perfectly for the architectural design we proposed as it provides earth-toned and warm light while maintaining clean lines. >>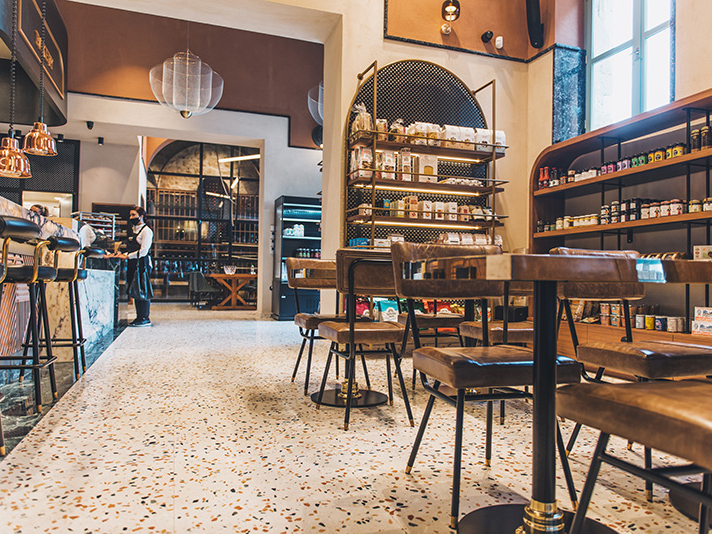 #interview
WHAT IS THE ADDED VALUE OF INSTALLING AN ALDO BERNARDI PRODUCT? WHAT MAKES ALDO BERNARDI DIFFERENT FROM OTHER BRANDS?
<< The major advantage of this lighting is that it is made of brass.
This means that over time, this product will become more and more beautiful and sophisticated. Being placed outside, the saltiness of the sea will transform its texture, adding a vintage touch.>>